With the rapid development of intelligent technology, urban life is becoming more and more intelligent. As a representative enterprise of Shenzhen smart business display industry, Rongda Caijing is committed to "innovation, development and introduction of new technology" as the main core. The newly developed touch advertising machine with the beauty of touch technology and materials has officially become an innovative product to promote smart city and smart life.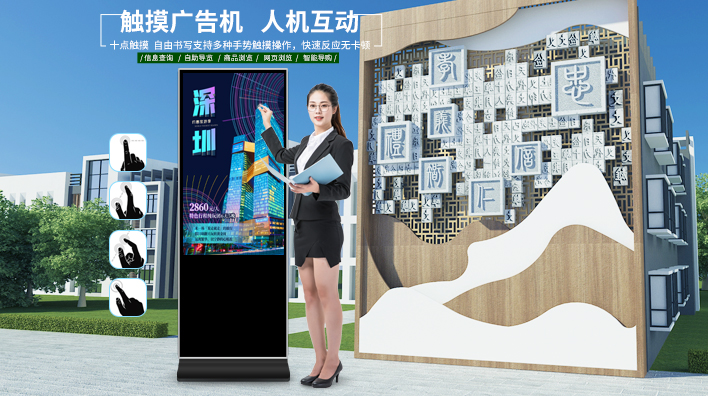 Knowledge promotion and publicity

This novel information dissemination and publicity has played an important role in promoting urban economic development and cultural dissemination. Rich forms of communication, dazzling video information, touch screen and other interactive forms, and commercial advertisements or public welfare information transmitted by touch advertising machines can successfully promote the development of urban economic and cultural construction.

City image construction

As the product of high and new technology and the new favorite of intelligent technology, touch advertising machine brings the aura of science and technology to the city, enables the city to obtain more fresh elements, promotes the establishment of urban image, and helps the city attract investment, attract tourists and enjoy. With the touch advertising machine, a high-tech product, gradually infiltrating into people's daily life, it will also have a certain impact on the urban environment.

Significant benefits

Commercial shopping centers are also optimistic about the great commercial value of touch advertising machines and apply them to the window and exhibition hall of commercial centers. After many clothing brand stores are adopted, the shopping environment effect is significantly improved and has excellent benefits. The product has also entered commercial stores in major regions.

Not only the above advantages, but also banks, jewelry stores, museums and exhibition halls also attach importance to the auxiliary function of touch advertising machine for window display and human-computer interaction. In normal business, it can not only display advertisements for users, but also minimize personnel costs and attract customers through the function of human-computer interaction. Many banks and insurance companies have also introduced this touch advertising machine.